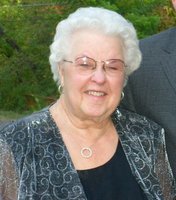 Helen Miller
Helen Whitenight Miller, 86, of Eagleville, Pennsylvania passed away peaceful Monday, September 4, 2017 at 9:30am at Fox Chase Cancer Center, Philadelphia.
Memorial Services will be held at Shalkop Grace and Shrunk Funeral Home on 135 Bridge Street, Spring City. Respects will be given at 10:30 and the service will begin at 11am, Friday, September 8th. A reception will follow immediately at VFW 6341, 730 S. 4th Street, Royersford, PA, 19648.
She was born October 30, 1930 in Bloomsburg, PA. Helen was one of three siblings and graduated from Bloomsburg High School in 1948. She married her high school sweetheart, Kenneth L. Miller on February 14th, 1948.
She's survived by her husband of 70 years, Kenneth, her five children, Kenneth Jr., Deborah, Sandra, Timothy and Diane, her grandchildren and great grandchildren and many other loving friends and family. She was preceded in death by her parents, sister, brother and a grandson.
She spent 25 years active in Navy Mothers of America 766, Girls Scouts of America and teaching ceramics. She enjoyed most of her days traveling by RV with her husband across the United States, making a part time home in Florida for the Winter and always spending Summers in Bloomsburg. Some of her favorite hobbies included ceramics, doing crosswords, camping, reading, meeting and making new friends and most of all spending time with her family.
In lieu of flowers, memorial contributions may be made to VNA Hospice Development Office at 3300 Henry Avenue, Philadelphia, PA 19129. Arrangements are made by Shalkop Grace and Strunk Funeral Home, 135 Bridge Street, Spring City, PA.