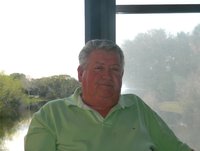 James A. Wilson
James A. Wilson, 73, husband of Margaret "Peggy" Wilson, died Wednesday, September 6, surrounded by family in Norristown
He was born in Norristown to the late Kenneth and the late Margaret (Lovett) Wilson, and lived in Norristown his entire life.
James was a 1962 graduate of Bishop Kendrick High School, served in The U. S. Navy, and worked for PECO for 38 years. He was active in The Elks, A.O.H., The Norristown Legion for 39 years, The Friendship Fire Company, The Hookies Fire Company, The Norristown Boat Club, and was an active parishioner of St. Francis of Assisi Church.
James had a sharp sense of humor and dedicated much of his time helping others. He enjoyed reading, boating, golfing and spending time with his dog Dozer and his grandkids.
He is survived by his wife, Margaret "Peggy" Wilson; three children, Barbara Doyle of Norristown, Nancy Kilpatrick (Dan) of Philadelphia, and Katie Wilson (Jason) of Michigan; sister, Jane Wilson of Chester, and brother, Kenneth Wilson (Judy) of West Chester; and four grandchildren, Joseph Kilpatrick, Vincent Kilpatrick, Jane Kilpatrick, and Shane Doyle. He is predeceased by his wife, Lois Wilson, and son JR Neves.
Family and friends are invited to attend his funeral Mass at St. Francis of Assisi Church, 600 Hamilton St., Norristown, PA on Monday, September 11, 2017 at 11:00 AM with The Rev. Goerner officiating. Visitation will be held at the church from 9:30 to 11:00 AM. Interment will be held at St. Patrick's Cemetery, E. Norriton immediately following.
In lieu of flowers, donations can be made to St. Francis of Assisi Church, 600 Hamilton St., Norristown, PA 19401 or A.O.H.