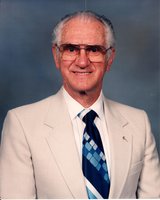 Bernard T. Boraten
Bernard Boraten, 93, widower of Evelyn (Copenhaver) Boraten, died Thursday, September 21, in The Gardens at Pottstown.
He was born in Linfield to the late John and the late Anna (Grannis) Boraten. Bernard was a graduate of Pottstown High School, and served in the US Army Air Corps in The European Theater during World War II. After the war, he worked as a cabinet maker at Bush Brothers. He then worked as a die maker for The Container Corp. Oaks, Pa. He loved woodworking and spending time with his family.
He is survived by his son, Ronald Boraten husband of Wanda of DelHi, LA; and sister, Adele Seybold; three grandchildren, Samantha, Blake, and Jonathan; and two great grandchildren Brody and Mason. He is preceded in death by his daughter, Janis Walter, and his son, Dennis Boraten; and brothers John, Walter, and Ted; and sister, Stella.
Relatives and friends are invited to attend his Funeral Services on Tuesday, September 26 at 10:30 at The Shalkop Grace & Strunk Funeral Home, 135 Bridge St. Spring City, PA 19475 with The Rev. Robert Davalt officiating. Visitation will be held at the funeral home from 9:30 AM to 10:30 AM. Interment will be held at Oak Grove Cemetery 657 Old Schuylkill Rd, Pottstown, PA 19465.