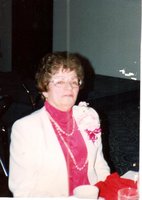 Dorothy L. "Dot" Miller
Dorothy (Dot) Jones Miller was the widow of Lee Miller. She was born in Pottstown to the late Clarence and Hilda Gamble Jones.
She was a graduate of Spring City High School, class of 1943 and Hahnemann Hospital School of Technology. She took courses at The University of Pennsylvania, University of Michigan, and The Mayo Clinic. She spent 32 years working in the lab at Pottstown Memorial Medical Center, retiring as Hematology Supervisor.
After retirement, she volunteered at Parkhouse, Manor Care, American Red Cross, and The Spring City Veteran's Center.
She was a member of The Royersford Methodist Church where she taught Sunday School, Church Nursery, and directed the Youth Fellowship, and served on the prayer chain. She also was a member of The Red Chili Peppers, Eastern Star #338, and a volunteer at The Spring Ford Historical Society.
Dot's hobbies were cooking and baking for family and friends at dinners, picnics, and parties.
She always looked forward to spending time at the mountains and seashore.
She is survived by a brother, Bob Jones of Royersford, daughters, Susan Lopsonzski of Olney Maryland, and Deborah DeRito of Chester Springs, PA; 6 grandchildren, Tiffany, Nicole, Vanessa, Matthew, David, and Holly; 5 great grandchildren, Kyle, Chase, Brooke, Owen, and Avery.
In addition to her parents, she is predeceased by her siblings: Dr. Richard Jones, Janet McKissic, and Patricia Sautter.
The funeral and burial are being held privately. Memorial gifts may be made in her memory to the Spring Ford Historical Society, 526 Main Street, Royersford PA 19468 or the Waggy Tail Rescue, www.waggytailrescue.org.
The shalkop Grace & Strunk Funeral Home, Spring City is handling arrangements.