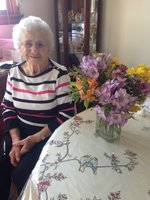 Elizabeth A. "Betty" Karkosak
Elizabeth "Betty" Karkosak, 96
Elizabeth "Betty" (Mendrey) Karkosak, wife of the late Frank Karkosak, passed away peacefully at home with family by her side, on Thursday, February 1, 2018.
A daughter to the late John and Julia (Benyo) Mendrey, Betty lived her whole life in Phoenixville.
Betty was a member of Sacred Heart Church, Phoenixville until its closure, and then she became a member of St. Joseph Church in Spring City. She worked in manufacturing for the The West Company, a medical device supplier for over 25 years until her retirement. After she retired she worked part-time for years at the Spring City American Legion and was a member of the Ladies Auxiliary.
She enjoyed cooking and baking, and especially loved preparing big Sunday suppers for anyone who showed up. She was known for her famous cookies year round, but she also baked up enormous amounts during the holidays; and she always made plenty to give out to family and friends. Betty also loved to entertain, and she hosted some of the best family picnics at her home. It didn't matter how many people came, she always had plenty of food and made everyone feel welcome in her home. She was a true giver and never looked for anything in return.
Betty loved her bus trips to the casino and to New York in the fall, and trips with her family to the Jersey shore. She enjoyed listening to Polka music and she and Frank danced a mean polka for sure. She and her sisters oftentimes were the first on the dance floor at area picnics, dancing the Polka.
She was an avid gardener, and had some of the prettiest flower gardens, rose bushes and lilies around. In addition, she grew a spectacular vegetable garden and harvested plenty for the family to enjoy, and also gave plenty away. She played a wicked game of Pinochle and spent hours playing 500 Rummy with her friends and family. Above all, however, she was a woman of faith and prayed the Rosary daily. She will be greatly missed.
Betty is survived by her two sons, Dennis F. Karkosak, of Royersford, and Donald J. Karkosak (Regina) of West Chester. Three grandchildren, Christopher (Lindsey), Nicole, and Joseph; and one great-grandson, Cole. She is predeceased by her sisters, Margaret, Josephine, Caroline and Helen, and her brothers, Steve, John, Edward, and Bobby.
Relatives and friends are invited to attend her funeral mass at Sacred Heart Catholic Church, 148 Church Street, Phoenixville, on Tuesday, February 6, at 11:00 AM, with The Rev. Charles O'Hara officiating. Visitation will be held at Shalkop Grace & Strunk Funeral Home, 135 Bridge St., Spring City, PA on Monday, February 5, from 6:30 PM to 8:00 PM, and at Sacred Heart Church on Tuesday, February 6, from 10:00 AM to 11:00 AM. Burial will be private. In lieu of flowers, memorial contributions may be sent to St. Joseph's Church, 3640 Schuylkill Road, Spring City, PA 19475
Online tributes can be made, and obituary viewed at www.sgsfuneralhome.com
Shalkop Grace & Strunk Funeral Home, Spring City, is h