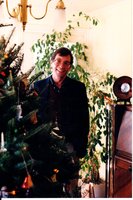 Steven H. Janney
Steven H. Janney, 68, Spring City

Steven H. Janney, 68, husband of Anita (Torres) Janney, died Thursday, April 5.

Born in Needham, Massachusetts to (late) Richard and Virginia (Besse) Janney, he spent his childhood in superhero cape, saving a certain young lady who did not fully appreciate his efforts. Unperturbed, he moved on to other things: excelling in sports (baseball, football) at Rivers Country Day School (class of '67), and serving as Chief of his tribe at Medomak Summer Camp in Maine. In Medomak's Senior play,"The Devil and Daniel Webster", Steve performed the role of Scratch the devil (we are not surprised). Steven had a keen interest in music, and joined his guitar and vocal talents with friends Mark Wiley, Buff Brown, Bill Cleveland and the late Lyman McNutt to form The Four Fifths, and later the The Boston Blues Union. Steve continued to play music throughout his life and will be well remembered for his ad hoc lyrics at the Yellow Springs Inn.

Steve entered the United States Navy and was honored to serve as Brigade Commander in the graduation ceremonies. Serving in Vietnam and the Gulf Conflict, Steve was in charge of the nuclear weapons on his ship. He used the GI Bill to attend Southeastern Massachusetts School of Visual and Performing Arts (class of 1980), graduating cum laude with a major in painting and a minor in sculpture. When he moved to the Chester Springs area, his painting career was highlighted with a number of solo shows and participation in numerous invitational and juried exhibitions. Awards include best in show at the Charlestown Playschool Exhibitions of 1982, '83 and '87. He was also honored as Historic Yellow Springs' poster artist in 1987. His acrylic on canvas paintings were at least as well known for his quirky titles, "Two Acre Zoning"- a pastoral landscape, and "War of the Expensive Entrees," of lobsters in a face off. Steve referred to himself as the "Randy Newman of the art world."

In later years, Steve wanted a way to pay for Nicorette and Miller Lite, and so began driving a school bus for Owen J. Roberts school district. He hadn't expected to fall in love with the job, but the kids became extra-special highlights of his day, and he always found a way to bring a smile and laughter to their day, as well.

In addition to his beloved wife, he is survived by brother Richard, stepsisters Jan and Sally, nephews Craig, Matt, Brian, and Steven, nieces Cathy, Kathy and Elizabeth, and their families. He is predeceased by beloved stepbrother Harl.


Friends and relatives are invited to attend his memorial on Thursday, May 3 at the Shalkop Grace & Strunk Funeral Home, 135 Bridge St., Spring City, PA 19475. Visitation 3 to 5 pm, followed by a 5 pm service, where we'll share memories of Steven.

Online tributes can be made at www.sgsfuneralhome.com. In lieu of flowers, memorial contributions to the Special Olympics would be appreciated.