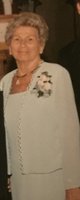 Helen Christman
Helen J. Christman (Favinger), 89, Royersford
Helen J. Christman, 89, widow of the late Wilson Christman, passed away Saturday September 28, 2019 at home surrounded by her family.
She was born January 28, 1930 in Phoenixville to the late Frank Favinger and the late Ruth Strickland. A. life time resident of the Spring Ford Community, Helen and Wilson were married for 67 years. They opened and established Christman Jewelers on Main Street of Royersford in July of 1962. Helen enjoyed running the family business with Chris; they considered their customers their friends. Helen was a wonderful wife, mother, grandmother, and great grandmother. She was a hard worker and full of energy. She loved her family and loved watching her grandchildren grow into beautiful young adults. Helen was a member of the Royersford Methodist Church and a proud member of the Spring Ford Community. Back in the day, she enjoyed hosting pinochle and bridge parties with her friends, trips to Myrtle Beach every spring, and her trip to Europe and Greece were a highlight as she met Princess Grace Kelly. She will always be remembered in the Royersford community for organizing the twice annual trips to NY City. Two busloads of ladies from Royersford, her family and many friends looked forward to those trips as they were always full of fun, laughter, broadway shows, and good memories from start to finish!
Helen grew up in Phoenixville but her home for many years was in Royersford. In addition to her children, Joyce (Tom) Wallace of Hilton Head, SC, Wil (Kim) Christman of Limerick, Wayne Christman (Cyndi Long) of Royersford, and Michelle (Keim) Christman, she has 10 grandchildren and great grandchildren. She was preceded in death by her daughter, Jan Christman Jackowski, her four brothers and four sisters.
A Memorial Service will be held at 11:00 AM Monday October 21, 2019 in the Royersford United Methodist Church, 380 Church St., Royersford with Rev. James McIntire officiating.
Friends and the community may visit with the family at the Shalkop, Grace & Strunk Funeral Home, Spring City, from 4:00 PM to 6:00 PM Sunday, October 20, 2019 and 9:30 AM to 10:30 AM Monday, October 21 prior to the service at Royersford United Methodist Church 380 Church Street, Royersford, PA 19468.
In lieu of flowers, donations can be made to the Royersford United Methodist Church. Online condolences can be made at www.sgsfuneralhome.com. All arrangements are being handled by Shalkop, Grace & Strunk Funeral Home, Inc Spring City, PA.