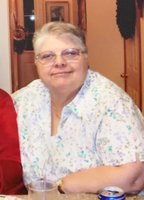 Donna Marie Esterhai
Donna Marie Esterhai, 73, Norristown
Donna Esterhai, 73, passed away Wednesday February 12, 2020 in the Paoli Hospital. Donna was born in Phoenixville on December 18, 1946 to the late Esther Esterhai. One of ten children, Donna was the oldest sister. She enjoyed gathering at family events and it wasn't uncommon for Donna to enjoy her afternoons entertained by soap opera dramas. Donna was employed at Hollingsworth Company and Mrs. Smith Pies.
Donna leaves behind her siblings that helped care for her until the end:
Donald (Butch) Wallace
Gloria Venezia
Rusty Wallace
Greg Talbot and
Sharon Talbot.
Donna was preceded in death by her siblings: Deborah and Frederick Talbot.
A memorial service will be held at Grace Assembly of God 1271 W. Bridge Street, Spring City, PA 19475. at 2 PM on March 1, 2020.
Online condolences can be made at www.rstrunkfuneralhome.com. All arrangements are being handled by R. Strunk Funeral Home, Inc. Phoenixville, PA.