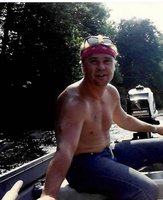 Thomas W. Shaner
Thomas W. Shaner, 64, Spring City
Thomas Shaner, 64, husband to Jane Keck, passed away Saturday February 29, 2020 at home after a lengthy battle with cancer.
He was born December 25, 1955 in Phoenixville to the late Earnest and the late Mary (Maudy) Shaner. Thomas spent all of his life in the Spring Ford Community. He graduated in 1973 from Spring Ford High School and enjoyed playing for the school sports teams in wrestling and baseball. Thomas actively served the Phoenixville Community by being employed by Phoenixville Borough in the sanitation department. In his free time, he enjoyed hunting, boating and relaxed by listening to music.
Thomas leaves behind, wife and longtime companion, Jane Keck and two sons: Sons: Kyle Shaner and Ryan Shaner.
A Memorial Service will be held at 11:00 AM Saturday March 14, 2020 in Shalkop, Grace & Strunk Funeral Home, 135, Spring City, with Rev. Erick Kern officiating.
Online condolences can be made at www.sgsfuneralhome.com. All arrangements are being handled by Shalkop, Grace & Strunk Funeral Home, Inc Spring City, PA.