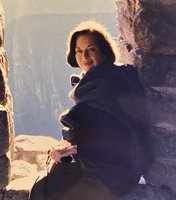 Margaret C. Ridall
Margaret C. Ridall, 82
Margaret Carol (Griffith) Ridall, 82, of Phoenixville, passed away peacefully early Tuesday morning, November 17, 2020.
Margaret is survived by her three children: Cheryl Ridall of Austin, Texas, Rick Ridall (husband to Nichole) of Exton, Pennsylvania and Amy Ridall Campbell (wife of Michael) of Bolivar, Missouri, her sister Virginia Lordi and five grandchildren, Mikaela, Jake, Noelle, Brody and Wyatt. She was preceded in death by her sister, Susan Sheahan and her life partner, William Sklaroff.
The eldest of three girls, Margaret was born on October 25, 1938 in Philadelphia to the late David Griffith and Lillian Griffith Sheahan. She grew up in the Germantown section of the city and was a graduate of the Philadelphia High School for Girls (also known as Girls' High). Margaret continued her education at Bryn Mawr School of Nursing. As a registered nurse, she found her calling in the mental health field beginning her nursing career at Eastern Pennsylvania Psychiatric Institute (EPPI). She took her EPPI experience and dedicated many years serving as the director of Community Services for Human Growth for Chester County, located in Phoenixville. Once she left Community Services, she stayed closely connected to many of her former patients.
She finished her professional nursing career at Travelers Insurance, where she managed a team of workers' compensation nurse case managers. In this role, she loved to bring her team members together and thought of her Travelers team as family.
In addition to her professional career, Margaret was very active in the community and passionate about giving of her time to others. She was a longstanding board member at the Spirit of Gheel in Kimberton, PA and served as board president. After stepping down as president, she remained on the board until her passing. For many years, she served as the judge of elections in East Pikeland Township. She, along with her election team, gave much time and dedication to ensure a smooth voting process. She loved to connect with so many members of the community on election day.
Margaret was very spiritual, an ordained minister and a reiki master. She loved astrology, studied homeopathy and was an active member of several spiritual groups, most notably Society of Light and Holy Experiment. She had a love of travel and her favorite places included Townsends Inlet, (NJ), Sedona, Austin, San Francisco and Machu Picchu, Peru.
In her most important and loved role, she was a wonderful and dedicated mother and grandmother (Grammy). In her retirement, she attended many of her grandchildren's school and athletic activities and spent cherished time with her family and friends.
Let us honor Margaret's life by being forgiving; living life well; loving with an open heart, giving service to others and being kind to all. God bless you. May you celebrate your new life with the angels and those you love who greeted you, as we appreciate you and our time in this earthly existence with you. Be at Peace, Margaret and with love and light we celebrate you.
Arrangements are private and will be at the convenience of the family. In lieu of flowers, donations can be made in Margaret's name to two organizations near and dear to her. Checks can be made payable to: The Spirit of Gheel and sent to P.O. Box 610, Kimberton, PA 19442. You can learn more about the Spirit of Gheel at www.spiritofgheel.org. Or, checks can be made payable to: Meals on Wheels of Chester County and sent to 404 Willowbrook Lane, West Chester, PA 19382. You ca also pay via PayPal or visit their website at www.mowcc.org.
Online condolences can be made at www.rstrunkfuneralhome.com. All arrangements are being handled by R. Strunk Funeral Home, Inc., Phoenixville, PA.