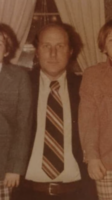 John M Slaughter, Jr.
John M Slaughter, Jr., 78, Spring City
John Slaughter, Jr., 78, passed away Friday November 27, 2020 in the Reading Hospital.
He was born December 2, 1941 in Richmond, VA to John Slaughter, Sr. and Margaret (Miller) Slaughter.
John leaves behind, his loving sons: John M. Slaughter III, Scott Slaughter and Todd Slaughter; his sister, Kay Slaughter and two granddaughters, Amanda and Molly and one great granddaughter, Shiloh.
A graveside service will take place on Friday, December 4, 2020 at 1 PM at the East Vincent UCC Cemetery Hill Church Road, Spring City, PA 19475
Online condolences can be made at www.sgsfuneralhome.com. All arrangements are being handled by Shalkop, Grace & Strunk Funeral Home, Inc Spring City, PA.