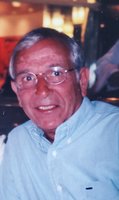 Sabatine G. LaNoce, Jr.
Sabatine "Sab" G. LaNoce, Jr., 88, Phoenixville
Sabatine LaNoce, Jr., 88, loving husband of Dorothy (Kaminski) LaNoce passed away Friday, December 25, 2020 at Brandywine Senior Living at Upper Providence.
He was born February 2, 1932 in Philadelphia to Sabatino and Anna (Zullo) LaNoce. A graduate of Roxborough High School, Sabatine, affectionately known as "Sab" was a barber and owner of the Wissahickon Barber Shop for over 60 years. He attended the Immaculate Heart of Mary Church, Philadelphia, and throughout his life, he was an avid hunter and fisherman. Most importantly, he was a devoted husband, father to his children, and grandfather to his 7 grandchildren, and great grandson.
In addition to his wife Dorothy "Dottie" of 63 years, Sab leaves behind his sons, Dr. Gary LaNoce (Renee), Robert LaNoce and daughter, Kristen Thompson (Doug) ; his 7 grandchildren, Maureen Devlin, Gary LaNoce, Jr., Emma LaNoce , Garrett Thompson, Kyra Thompson , Charlotte LaNoce , Elizabeth LaNoce; and his great grandson, Auggie LaNoce .
A Funeral Service will be held at 11:15 AM Saturday, January 2 at St. Joseph RC Church, 3640 Schuylkill Road, Spring City, with The Rev. Charles O'Hara officiating.
Visitation will be from 10:00 AM to 11:00 AM Saturday, January 2 prior to the service at St. Joseph RC Church.
Interment will be held privately, in the Westrminster Cemetery.

Online condolences and memorial donations can be made at www.rstrunkfuneralhome.com. All arrangements are being handled by R. Strunk Funeral Home, Phoenixville, PA