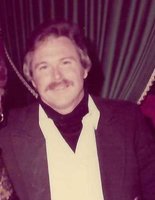 John Matthew Lafferty
John M. Lafferty, 77 , Royersford
John Lafferty, beloved life partner to Ann Theresa Dellaquila Hoffman, passed away Thursday March 4, 2021. Born and raised in Philadelphia, John was the son of the late Frank J. Lafferty and Jane Cahill Lafferty. A graduate of Father Judge High School for boys, John attended La Salle College and Pierce Junior College. He then went on to graduate from Professional Golfers Association Business School, I and II. While playing on tours, he was a teaching professional at the Historic and Prestigious Merion Golf Club in Ardmore for many years in the summer.
Later, he was a member of the Reading Country Club and Co- Owner of Jahl Ebterprises, Inc. a Taxi Cab business in Philadelphia. He also worked as a licensed Realtor for Century 21 and Pension and Trust agent for Kansas City Life Insurance. He enjoyed his Classic 1964 Chevy II Nova 2 door Hardtop. He raced and showed his classic Chevy II Nova at Maple Grove Raceway and Ocean City, Maryland. Upon retiring, he traveled with Ann Theresa from coast to coast throughout the USA including Canada and Nova Scotia. He enjoyed spending time with his friends and his entire family.
John is survived by Ann Theresa Dellaquila Hoffman, his beloved life partner; son, Bill Hoffman, (Debbie) E. Vincent; and daughter, Dore Dabback (Peter), E. Vincent; Grandchildren: Lynsey Haslip (Brandon) E. Coventry, Whitney O'Reilly (Brian) Schuylkill Township, Tiffany Black (David) East Vincent, Billy Hoffman (Ashley) E. Vincent.
Seven Great Grandchildren: Patience and Paolo O'Reilly, Hartel and Holden Haslip, Abbey and Emily Black, and Ryker Hoffman; Brother in Law Bob Dellaquila (Elaine) Phoenixville; Sister in law Carolyn Magill (Bill) Saint John, FL and other special nieces and nephews.
Besides his parents, he was predeceased by his brothers, Frank and James Lafferty both were PGA golf professionals and his endearing Aunt Jemima (Jinney) Cahill who was like a second mother to him.
In light of current COVID restrictions, funeral services will be held privately.
In lieu of flowers, donations in John's name can be made to East Vincent United Church of Christ, Hill Church Road, Spring City, PA 19475
Online condolences can be made at www.sgsfuneralhome.com. All arrangements are being handled by Shalkop, Grace & Strunk Funeral Home, Inc Spring City, PA.