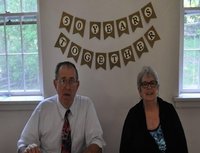 Robert and Patricia Hepp
Mr. & Mrs. Robert E. and Patricia A. Hepp, 81 Reading, PA
By each other's side through their final days, Robert and Patricia Hepp passed away Wednesday May 5, 2021 in the Reading Hospital only a few minutes apart.
Patricia was born June 27, 1939 in Springfield, Ohio to the late William Edmunds and the late Margaret (Kelly) Edmunds. Patricia graduated from Catholic Central High School, Springfield, OH in 1957. Patricia was a lifelong mother and homemaker tirelessly and lovingly caring for and raising six children which were her pride and joy. In addition to being a homemaker, throughout her lifetime she was employed in several areas of food service and restaurant management.
Robert was born April 15, 1940 to the late Robert and Onetta (Flasher) Hepp. Sr. in Philadelphia PA. Robert, a 1958 Spring Ford High School Graduate, continued his education at Drexel University obtaining his Bachelor's and Master's Degrees as a Mechanical Engineer. He provided for his family as an engineer and dairy farmer. Bob devoted a significant portion of his professional career on engineering and developing critical systems on US Naval Ships that have been used for over 60 years. He was one of only a handful of individuals in this field in which he actively participated until within a few weeks of his death. Much of his spare time was spent on his passion for playing Bridge.
Although, being raised in two different states, they found one another and were married in Philadelphia. Bob and Pat shared many interests and enjoyed spending time with one another, along with family and friends, square dancing/country line dancing, playing cards and games, cooking and baking, gardening and bird-watching, Sunday dinners and hymn sings, and enjoyed their many visits with family and friends.
Patricia is preceded in death by her brother: Terrance Edmunds
Robert and Patricia leave behind their six children:
Kelli Hirschauer (Gary), Shelli Waluk, Anthony (Amy), Robert III (Cindy), Barbara Gallagher (Marty) and Joseph (Melissa).
Robert's siblings: Bess Quintangeli (Vince), Emma Jane Karpp (Bob-deceased), and James Hepp (Donna)
And Patricia's sister: Margaret "Peg" Chalow (Frank-deceased)
Robert and Patricia/Mom and Dad/Mimi and Pop-Pop also leave behind thirteen Grandchildren and six Great Grandchildren.
Extended calling hours will be held at the Shalkop, Grace and Strunk Funeral Home, 400 Main St, Phoenixville, PA, from 4 to 8 PM, Friday, May 14, 2021.
A private Graveside Service will be held in Royersford/Fernwood Cemetery, 988 Walnut Street, Royersford.
Online condolences can be made at www.sgsfuneralhome.com. All arrangements are being handled by Shalkop, Grace & Strunk Funeral Home, Inc Spring City, PA.