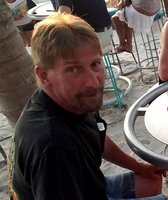 James E. Yocum
James E. Yocum, 56, Spring City
James Yocum, 56, passed away Thursday May 6th, 2021 in the Seasons Hospice.
He was born June 13, 1964 in Phoenixville to the late Richard Yocum and Carole (Faust) Yocum.
James has lived his entire life in Spring City, and is a graduate of Spring Ford High School, class of 1982. He went on to be a fire protection system designer and remained in that occupation for 36 years.
He was a member of The Liberty Fire Company in Spring City, where he loved to play the virtual shuffleboard and bowling games with his friends almost every day, and The American Italian Bocce Club in Royersford where he enjoyed playing bocce. He also loved riding his Harley Davidson motorcycle, and loved music.
James leaves behind his son, Chris Yocum of Spring City, his mother Carole Yocum, his sister Cyndi DePietropaolo (Russell), sister in law Linda Yocum and his longtime girlfriend, Darice Valladares. He is preceded in death by his brother Rick.
A Funeral Service will be held at 11:00 AM Friday, May 14th in Shalkop Grace & R. Strunk Funeral Home, 135 Bridge Street, Spring City.
Visitation will be from 10:00 AM to 11:00 AM Friday, May 14th prior to the service at Shalkop Grace & R. Strunk Funeral Home. Interment will be immediately following the service at the Temple United Methodist Church Cemetery 1390 Unionville Road, Pottstown, PA 19465.
Online condolences can be made at www.sgsfuneralhome.com. In lieu of flowers, donations to Chris' Relay for Life campaign can be made HERE. All donations benefit the American Cancer Society. All arrangements are being handled by Shalkop, Grace & Strunk Funeral Home, Inc Spring City, PA.