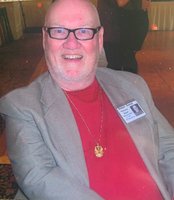 Bob Omrod
G. Robert Omrod, 87, Royersford
The Spring Ford community has lost a dear friend, artist, and longtime resident as G. Robert "Bob" Omrod, 87, passed away Tuesday June 1, 2021 at Lankenau Hospital.
He was born January 1, 1934 to Abel Omrod and Helen Darr Omrod. Bob graduated from Royersford High School in 1952 where he was a member of the marching band and played the bass drum. He then attended Kutztown University where he received his Bachelor's in Art, graduating in 1956. Later, he attended Penn State University where he received a Master's degree. Bob also served as a member of the United States Army. Bob taught Art for the Spring Ford School District for his entire 40-year career. He made lasting impressions on generations of students with his creativity and passion for teaching. His creative side also extended to his love for photography and painting. Bob performed in and directed countless plays throughout his time as a student and teacher. In his spare time, Bob created miniature dioramas which can be found on display at the American Treasure Museum in Oaks PA. Bob loved his work and wanted everyone to see the amazing displays at the museum. Bob was notably honored by the Freedoms Foundation and President Nixon for his work throughout his career.
Bob leaves behind his nieces, Heidi Fretz (wife of Bill) and April Winnies Crabtree (Wife of Dwayne) and great nieces and nephew: Nathan, Justine, Erica, Taylor and Jacquelyn and Great Great nieces and nephew: Madison, Mya, Gavin, and Tatum.
His is predeceased by his sister, Helen Omrod Frey.
Friends and the community may pay their respects to his family and walk thru his display in the Music Room at the American Treasure Museum, One American Treasure Way, Oaks, PA 19456. www.americantreasuretour.com, on Wednesday, June 9, 2021 from 10:00am – 12:00pm.
In lieu of flowers, donations can be made to: G. Robert Omrod Memorial Fund C/O Phoenixville Federal Savings and Loan, 70 North Lewis Road, Royersford, PA 19468. Online condolences can be made at www.sgsfuneralhome.com. All arrangements are being handled by Shalkop, Grace & Strunk Funeral Home, Inc. Spring City, PA.