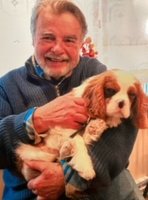 John T. Hiatt
John T. Hiatt, 74, Valley Forge
John Hiatt, 74, loving husband to Mallory Skora Hiatt passed away early Tuesday morning, August 3, 2021 in the Seasons Hospice at Phoenixville Hospital.
He was born October 21, 1946 in Milwaukee, Wisconsin to the late John and the late Marguerite (Weber) Hiatt. Smart and full of whit, until his last days on earth, John was still making people laugh with his signature jokes and warm smiles. John loved all things History, was an avid reader, and prolific writer. He was often referred to by family and friends as a "Walking Encyclopedia" or "Purveyor of Fine Words". He loved to share his wide breath of knowledge and love for learning. A journalist and writer as a profession, John wrote newsletters for various Business Publications including Entrepreneur Magazine, Progressive Business Publications, and top organizations like UPS. John was never too proud to work to provide for his family. He was a life-long Train and Model Railroad enthusiast, which started during in his late teens shoveling coal while he worked on the Milwaukee Railroad, one of his all-time favorite adventures. Before graduating from the University of Wisconsin Milwaukee with a B.A. in Journalism, John faithfully served our country in the Vietnam War as a United States Marine. He adored his family, especially his only daughter and grandchildren.
John leaves behind his beloved wife, Mallory of 45 years, loving daughter, Meredith Barger (Wife of Kevin) and two doting grandsons: Colin and Liam Barger.
A Memorial Service will be held at 11:00 AM Monday August 9, 2021 in R. Strunk Funeral Home, 400 Main Street, Phoenixville.
Visitation with the Family will be from 10:00 AM to 11:00 AM Monday, August 9 prior to the service at R. Strunk Funeral Home.
John was an avid animal lover and their home would sometimes be referred to as "Noah's Ark". In lieu of flowers, donations can be made to the ASCPA in John's name. Online condolences and a link to the ASCPA can be made at www.rstrunkfuneralhome.com. All arrangements are being handled by R Strunk Funeral Home, Inc Phoenixville, PA.