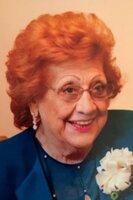 Anna M. Madera
With heavy hearts we announce the passing of Anne Madera 95 of Phoenixville, PA, affectionately known as "Nana" and "Aunt Annie".
Anne passed away peacefully at Seasons Hospice in Phoenixville. Born on March 3, 1926 in Royersford, PA, she was preceded in death by her late husband Lewis Madera; her parents, Remegio and Alvera (Golie) Calcinore in additon to her ten siblings, Bob Evans, Albert, James, Ernie, Lewis, John Calcinore, Mary Jurata, Amelia Sciallo and Elizabeth Sciallo.
Anne was the beloved mother to her Son, Frank (Lisa) Rosetti and Daughter Mary Ann (Raymond) Mincarelli. She was also the proud grandmother of Tony Rosetti (Denise), Debbie Rosetti,
Denise Wallin, Marci Oberst (Ted), Robert Cappelli, and Alana Cappelli. She is survived by seven great grandchildren.
Anne worked for Wyeth Laboratories for many years before retiring in 1980.
Her family and her faith were everything to her. She always welcomed everyone with an open heart. She was an avid cook and proud of her Italian heritage. Christmas Eve was always her favorite holiday. Anne also loved spending time with her family, friends, listening to music, dancing and visiting the casino. She will be forever missed.
A Funeral Mass will be held at 10:00 AM Thursday September 9 in St. Mary Of The Assumption, 212 Dayton Street, Phoenixville with Rev. John Hutter officiating.
Visitation at the church will be from 8:30AM to 10:00 AM Thursday, September 9 prior to the service at St. Mary Of The Assumption.
Burial will be immediately following in the St. Anns Cemetery.
In lieu of flowers donations may be made to Season's Hospice or St. Mary of the Assumption Church. Funeral arrangements are being handled by the R. Strunk Funeral Home.
Online condolences and memorial donations can be made at www.rstrunkfuneralhome.com.