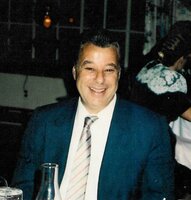 Manuel DeMutis
Manuel DeMutis, 78, Phoenixville
Manuel "Manny" DeMutis, 78, widower of the late Elizabeth "Betsy" DeMutis, passed away Wednesday, November 24, 2021 in his home surrounded by his beloved family.
He was born February 16, 1943 in Phoenixville to the late Emmanuel and the late Dorothy (Oberholtzer) DeMutis. Upon graduating from Phoenixville High School, Manuel began his life-long career as an entrepreneur and real estate developer of the Phoenixville area. He was a creative visionary who most enjoyed starting new businesses. In addition to developing real estate, he started and operated many businesses across his lifetime including hotels, restaurants, bars, retail stores and raising racehorses. He also served his country in the United States Navy.
Growing up on Bridge Street in Phoenixville during the thriving bustle of the 1950's, he never gave up on a vision of a vibrant downtown and played a major role in the revitalization of Phoenixville. He encouraged his children to stay in Phoenixville and to help bring this vision to life. He enjoyed spending time with his family, hosting weekly family dinners and playing an active role in his grandchildren's lives. Later in life, Manuel looked forward to going out to dance with his partner, Marion, on a regular basis. Manuel quietly and frequently helped those less fortunate and in need.
Manuel leaves behind his son, Emmanuel Christian DeMutis, husband of Katherine O'Connell DeMutis, of Phoenixville, daughters Dorothy Elizabeth Strunk, wife of Robert Strunk of Phoenixville, and Anne Moser DeMutis Cummins, wife of Matthew Cummins, of Phoenixville, and his sister, Marian Ardes, wife of Steve Ardes of Bradenton, FL; and grandchildren, Hope DeMutis, Paige DeMutis, Ava DeMutis, Robert Strunk, Max Strunk, Elizabeth Strunk, Coleman Cummins, and Zander Cummins.
Friends and family are invited to attend Manuel's funeral service to be held at 10:00 AM on Tuesday, November 30 at Zion Lutheran Church, 39 Bonnie Brae Rd., Spring City with Rev. Tina Mackie officiating. Visitation will be held on Monday, November 29, from 4:00 to 7:00 PM at R. Strunk Funeral Home, 400 Main St. Phoenixville, and again on Tuesday, November 30 from 9:00 to 10:00 AM at Zion Lutheran Church 39 Bonnie Brae Rd. Spring City, PA
Burial will be immediately following in the Zion Lutheran Cemetery.
In lieu of flowers, memorial donations can be sent to the Police Athletic League http://phoenixvillepal.org/Donate or Open Hearth https://www.openhearthinc.org/donate/.
Online condolences and memorial donations can be made at www.rstrunkfuneralhome.com. All arrangements are being handled by R. Strunk Funeral Home, Phoenixville, PA.