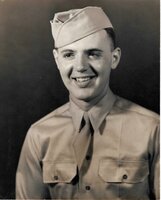 William M. "Bill" Bull, Jr.
William "Bill" Bull of Spring City passed away on Thursday, December 9 at the age of 100.
Bill was born to William & Mildred (Snowman) Bull on November 11, 1921, their only child. He enlisted in the U.S. Army in January 1943 and served in the PA 28th Infantry Division with battles in Normandy, Northern France, Ardennes, and the Battle of the Bulge. He was Honorably discharged in 1945 as a PFC, having been awarded the Bronze Star, 2 Purple Hearts, the combat Infantry Badge and the Croix de Guerre.
He is preceded in death by his wife, the love of his life, Maria J. (Shetler) Bull and one son, Mark S. Bull.
Bill will be missed dearly by his loving daughter, Ann, her husband, David O'Malley and his two grandsons, Eric O'Malley and Ryan O'Malley and Ryan's spouse, Marisa (Montgomery).
Visitation is being held on Friday, December 17th at Zion Lutheran Church located at 39 Bonnie Brae Road, Spring City from 9:00 AM until 11:00 AM with funeral immediately following at 11:00 AM. Interment will be at Zion Lutheran Church Cemetery.
Online condolences can be made at www.sgsfuneralhome.com. All arrangements are being handled by Shalkop, Grace & Strunk Funeral Home, Inc Spring City, PA.