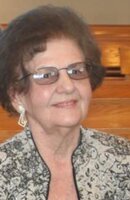 Theresa R. Romero
Theresa Romero age 90, formerly of Flemington New Jersey, passed away peacefully on December 16, 2021, with her family at her side.
Theresa graduated from Newark Public Schools in Newark, New Jersey. She was employed by the Public Service Electric and Gas Company (PSE&G ) in Newark, as a typist. She met her future husband Joseph Romero while he was having orientation. He saw her and asked a friend to introduce him to her. He said it was love at first sight. They were married eight months later. Theresa spent many years as a full-time homemaker when her children were young. After her children left home to start their own independent lives, she worked at Chubb Insurance Company and later as a full-time administrative assistant at Watchung Hills Regional High School until retirement.
Theresa was devoted to helping care for her parents weekly. She enjoyed their companionship and took them to medical appointments, grocery shopping, and drove them to visit friends and family. She was a loving and thoughtful grandmother. For years, she hosted an annual beach vacation for all her grandchildren at Seaside Heights. And, for many decades she happily and generously hosted family holiday meals and celebrations.
While visiting St. Maartin with friends, Theresa's vacation turned into an unexpected opportunity to work on a movie production with stars. The trio of friends she traveled with became extras in "Once Around", a movie starring Richard Dreyfus and Holly Hunter. They were hired as extras and appeared in many scenes of the movie. Richard Dreyfus seemed delighted with the trio from New Jersey, and included Theresa and friends with his family swimming and enjoying meals. When they returned home local reporters interviewed them and wrote articles for local newspapers about their experience on the movie set.
Theresa and her husband Joseph were married 66 years. Throughout their lives, they were devoted to one another. They were truly inseparable and deeply committed to each other.
At her time of need, Theresa received excellent care from the wonderful team from Constellation Hospice. They were kind and compassionate and treated her like family members that she enjoyed and could trust. We thank them for always being there to help.
Theresa is survived by her children Ruth (Philip), Laura (Mark), Amy (David); grandchildren Dana, Jessica, Bryn Kathryn, Audrey, Ryan, Christopher, and Matthew; great grandchildren Lila, Benjamin, and Marcus; and sister Anna Fallone. She is preceded in death by her loving husband Joseph, her parents Amelia and Alfonso Carlesimo, and a sister Natalie who died in childhood.
Family and friends are invited to join to pray and view Theresa at the funeral home via ZOOM on Tuesday, December 21, from 4-5 PM. To join the Zoom meeting, please follow the link provided below on December 21 at 4 PM. If you are unable to attend at that time, a recorded link will be posted on this obituary site after the service.
A private entombment will be held December 22nd at the St. Magdalen RC Church Cemetery, Flemington, NJ.
All arrangements are being handled by R. Strunk Funeral Home. Online condolences can be made at www.rstrunkfuneralhome.com
Topic: Viewing of Theresa Romero
Time: Dec 21, 2021 04:00 PM Eastern Time (US and Canada)

Join Zoom Meeting
https://us02web.zoom.us/j/87831396328?pwd=eFROejlFN3FLMmFYMjEzSmVNOGsrUT09

Meeting ID: 878 3139 6328
Passcode: Funeral