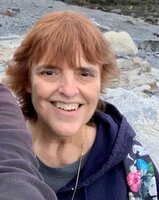 Nancy C. Stock
Nancy (Clarke) Stock of Phoenixville, loving wife of Walter Stock and mother of Kelly and Andrea Stock, passed away at her home on Friday, February 11 surrounded by her family at the age of 61. Nancy was born in Phoenixville to Doris (Hallman) Clarke Selwitz and the late Henry "Harry" Clarke, step daughter of the late H. Robert Selwitz.
Nancy lived all of her life in Phoenixville residing in the home she was raised in. She was a 1978 graduate of Phoenixville High School, as well as Antonelli School of Photography and Ursinus College.
Nancy was currently employed at AGI Aerospace as a Senior Installation Support Engineer and loved learning about space. She was adored by many families and friends and will be sorely missed. Nancy had many joys in her life, but most of all loved spending time with her family.
Loving mother of two daughters: Kelly and Andrea Stock and sister of Kathi (Herb) Woodruff, Jane (Jim) Nechin, and Mary Louise (Bill) Miller.
Relatives and friends are invited to attend her funeral mass on Thursday 2/17/22 at 11am at St. Ann's Chapel 604 Main St. Phoenixville, with The Rev. John Newns officiating. Burial will follow in the Zion Lutheran Cemetery, Spring City. Visitation will be held on Wednesday evening at the R. Strunk Funeral Home 400 Main St Phoenixville 6-8pm and on Thursday in the St. Ann's Chapel from 9-11am. In lieu of of flowers, memorial gifts may be made in Nancy's memory to the GCS Project.org (2795 Estates Sr. Park City Utah 84060) or the Cancer Center of Paoli Hospital 255 W. Lancaster Ave Paoli PA 19301. R. Strunk Funeral Home is handling arrangements.
Online condolences and a link for memorial donations can be found at www.rstrunkfuneralhome.com