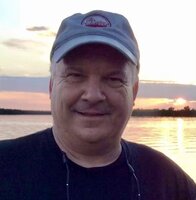 Toby Grater
Toby Grater, 65, loving husband to Donna (Tiffany) Grater peacefully passed, in his Barto home, from this life into the presence of his Lord and Savior, Jesus Christ, on March 5th, 2022.
He was born August 4, 1956 in Pottstown, Pennsylvania to the late Frank (Barney) Grater, Jr. and the late Armita (Planer) Grater.
After graduating from Spring-Ford High School/Western Montgomery County Vo-Tech, Class of '74, he went on to study Information Technology, kicking off a 29 year career as a Computer Analyst at Shared Medical, and GPU.
On September 15, 1979 he married the love of his life, Donna. They went on to have two wonderful children, Sutton and Brooke, and two amazing granddaughters, Callie and Sadie, and enjoyed 42 years of marriage.
Above all, his primary mission in life was to be a devoted husband, father, grandfather, and friend to all. Incredibly kind hearted and never missing an opportunity to help others, Toby truly and thoroughly enjoyed life. Toby was an avid reader and loved to swim, shoot, ski, dirt bike, laugh with friends, drum, fly his Cessna, take care of the family property, travel to Florida, remind others of our God-given rights, and be with Donna. The full list of his passions and hobbies are too extensive to list.
Nothing brought him more joy than his family. Pop-pop Toby was always there with a genuine smile and hug, special treats, and unconditional love and support for his wife, children, and granddaughters.
Toby was predeceased by his mother and father. He is survived by his wife Donna, his children Sutton Grater and Brooke Grater (Seth Brown, boyfriend) his granddaughters Callie and Sadie Grater, his uncle Gary (GG) Grater, his best friend Jim Mogel, his granddog Fitz, and his grandcat Snookers.

On Saturday March 19, 2022 a Celebration of Life (10AM) and Visitation (9AM) with friends and family, will be held at Trinity Lighthouse Church - 66 South Limerick Road, Royersford, PA 19468, with a time of fellowship to follow. In lieu of flowers, donations can be made to "Crush Childhood Cancer - Team Sadie"

Online condolences can be made at www.sgsfuneralhome.com. All arrangements are being handled by Shalkop, Grace & Strunk Funeral Home, Inc Spring City, PA.