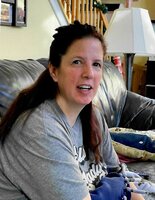 Amy Falco Blizard
Amy Falco Blizard, 51
Amy Falco Blizard, beloved mother and wife, passed away in Einstein Hospital, Philadelphia, on March 15, 2022. The daughter of Michael and Theresa (Wheeler) Falco, Amy graduated in 1989 from Methacton High School. She continued her education at Montgomery County Community College. Full of energy, Amy loved to celebrate life with family. She will be remembered as the eccentric young woman ready to pull out all the stops for Halloween.
Amy leaves behind her husband, Robert (Bob) Mandik and children, Paula and Emily Blizard, and two stepchildren: Julia Andrulewich (husband, Ryan) and Jessica Mandik, as well as her beloved puppy, Winston.
Friends are invited to visit with the family on Thursday evening, March 17 from 6 - 8 PM at Zion Lutheran Church, 39 Bonnie Brae Rd, Spring City, PA 19475 and Friday morning prior to the service from 10-11 AM. A funeral service will be held at Zion Lutheran Church at 11:00 AM on March 18, 2022. Burial will be immediately following at the Zion Lutheran Church cemetery. In lieu of flowers, the family asks that you would make a donation to the girls' college fund. This can be done by sending your donations by Zelle to robert.mandik@verizon.net. Checks can also be sent and made payable to Robert Mandik for the girls education. Donations can be sent to 220 Shadybrooke Dr. N Douglassville, PA 19518.
Online condolences can be made at www.sgsfuneralhome.com