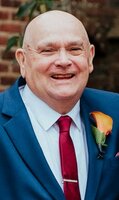 George W. Quay
George W. Quay, 74, passed away peacefully at home early Wednesday morning.
George was born September 6, 1947 in Phoenixville to the late George R. and Hazel (née Phillips) Quay. He resided in Phoenixville through his childhood and graduated from Phoenixville Area High School in 1965. George proudly served our country during the Vietnam War as a military police officer stationed in Korea. After he returned home, George worked in the printing industry for over 30 years. Upon retirement, George worked as a security officer at Einstein Medical Center Montgomery and Main Line Health. George enjoyed meeting his friends for breakfast, and on a sunny day, riding his Harley Davidson.
George was passionate about sports, particularly basketball and baseball. For over 35 years, he dedicated countless hours as a PIAA official for multiple sports. He was a lifelong Philadelphia sports fan and earned the nickname "Doc" for his knowledge of sports trivia. His devotion to his family was always foremost on his mind. He was a well known figure throughout Montgomery County; George could not go anywhere without running into someone he knew personally or through his service to the community.
George is survived by his wife, Carol Ravel Quay; devoted sons: Stephen (Karrie), Matthew (Rachel), Ryan, and Shaun (Nicole); stepdaughter, Dina Ravel (Mike); five grandchildren: Elizabeth, Avery, Darcy, Lincoln and Jacob; sister, Carole Simes (Morris); Sister In Law, Clorena Quay and several nieces and nephews. He was preceded in death by his brother, John Quay.
Friends are invited to visit with the family on Monday, April 4th, from 10 AM - 12 Noon at the R. Strunk Funeral Home, 400 Main Street, Phoenixville, PA 19460. Funeral Honors and a memorial service will begin at noon with the Rev. John Shantz officiating. Burial will be private at a later date.
In lieu of flowers, memorials in George's honor can be made to the Disabled American Veterans Organization.
Online condolences and a link for memorial donations can be made at www.rstrunkfuneralhome.com. All arrangements are being handled by R. Strunk Funeral Home, Inc. Phoenixville, PA.