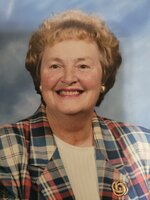 Shirley W. Shaffer
Shirley Shaffer, 87, of Spring City passed away at Keystone Villa in Douglasville in the early hours of May 10, 2022.
As one of 4 children born to Norman and Ruth (Sharpless) Weaver, Shirley arrived on January 14,1935 in West Chester, Pennsylvania. Shirley met her lifelong love, Earl (Skip) in Phoenixville and they were married on April 18, 1953. They briefly lived in Chester Springs before buying their first home in Royersford. In 1963, they moved to Spring City with their two young daughters where they lived for 57 years.
Shirley devoted her heart and time to her family, faith and community. Her deep devotion to Royersford United Methodist Church led her to serve for over 60 years in many different ways. She served as a youth leader, a choir member, a Sunday School teacher, UMW member and served in various outreach ministries. She also volunteered with Spring City Library, Spring City Ambulance, American Cancer Society, Spring City Garden Club, Spring City Centennial, Needlework Guild and Girl Scouts of America. Shirley worked for Spring-Ford School District for over 25 years in various positions, retiring in 1983 as the Director of Transportation. She was also elected to the position of Tax Collector of Spring City and served for 22 years. She touched more lives than she will ever realize.
Shirley is survived by two daughters, Sandra (Gregg) Minnick of Stevens, Pennsylvania and Susan Renninger of Lititz, Pennsylvania; her sister, Patricia Schlesman, her brother, Dennis Weaver,and grandchildren, Zachary, Ryan, Kenneth, Ian and Rachel, and one great granddaughter. She was preceded in death by her husband, Skip and her brother, James Weaver.
A memorial service will be held on Saturday, June 11 at Royersford United Methodist Church at 11 AM. Visitation will be from 9:30 - 11:00 in the church prior to the service. In lieu of flowers, please send donations to Royersford United Methodist Church, Spring City Library, or SpringFord Historical Society.
All arrangements are being handled by Shalkop, Grace, and Strunk Funeral Home. Online condolences and links for memorial donations can be made at www.sgsfuneralhome.com