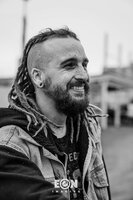 Paul James Sarduy
Paul "PJ" James Sarduy, age 28 of Tennessee formerly of Phoenixville, PA died on Saturday May 21, 2022, tragically because of injuries sustained in a car accident.
Paul was born in Avon Park, FL a son of Paul Ruperto Sarduy and of Beverly (Beasley) Dalton.
Paul was a 2012 graduate of Phoenixville High School, where he participated in wrestling and ran track. He had a passion for motorcycles and cars. He was an artist at heart. Music, poetry, metal sculpture but most of all he loved being present and sharing his amazing zest for life with his daughter, Veda Rose Thorpe and his life partner, Nina Reisinger.
Paul's tribe and extended family inspired him. Through them he created community and family.
In addition to his father, mother and daughter, Paul is survived by his Life Partner: Nina Reisinger. His step- father: Greg Dalton and his Godfather: Jad Attal and Brother by Tribe: Dustin Boggs.
A visitation will be on Saturday from 9-11am at the R. Strunk Funeral Home 400 Main Street Phoenixville PA 19460. Followed by a brief program at 11:15 am.
At 1pm there will be a Celebration of Paul's Life and open House at the Great American Pub148 Bridge St. Phoenixville PA 19460. In lieu of flowers memorial gifts may be made in Memory of Paul to the Go Fund Me (for Veda) by clicking here or Gofundme.com and search Paul Sarduy; Online condolences may be made and obituary can be viewed at www.Rstrunkfuneralhome.com