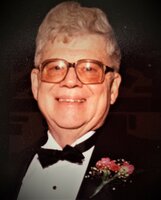 Allen R. Collins Jr.
Sergeant Allen R Collins JR (US Army reserves, retired) passed away peacefully on Thursday May 26, 2022. He was predeceased by his wife of 66 years (Alice Eleanor (Botts) Collins). He was the son of the late Allen R Collins SR and Anna (Lee) Collins.
Allen graduated from Spring City High School in 1946. He lived most of his life in Spring City. He was a faithful member of Bethel United Methodist Church in Spring City, PA. He wore many hats over the years; he was Sunday School Superintendent, played the drums and the chimes, and sang in the choir. He was a key member on the kitchen committee. He made the very best vegetable beef and ham and bean soup! Allen served as president of project outreach (Spring City food pantry) for 20 years.
Before being drafted, he worked for the Spring Company in Royersford and also on the Schuylkill river dredging project. Allen was drafted into the Army in 1950. He served in Korea during the Korean conflict. He continued his service to his country and retired from the United States Army reserves.
In civilian life Allen worked for Bell telephone as a linemen, cable splicer and installer. He retired from Verizon in 1985.
Allen loved music (he played the piano) he enjoyed traveling (he especially loved the trains) and was a master at crossword puzzles. He brought a smile to everyone he encountered.
Allen was predeceased by his younger sister Doris Siegle (Chris), Birdsboro
He is survived by his children, Craig Collins (Suzanne Osiol) of Spring City, Becky Bishop (David) of East Vincent, three grandsons, Ryan Collins, Tyler Collins (Kayla Collick) & DJ Bishop, and one granddaughter, Marisa Bishop. One Sister, Joanne Meitzler (Harry) of Elizabethtown, and his companion Jeanne Sproat of Pottstown, along with numerous nieces, nephews and cousins.
Friends and family are invited to call on Friday June 3rd, 2022 at Bethel United Methodist Church, 952 Bethel Church Road, Spring City, PA 19475 Visitation from 9:30-11am, service at 11am. Burial will follow in Bethel's cemetery.
In lieu of flowers donations came be made to the Spring City Food Pantry. Checks can be made payable to Bethel United Methodist Church (Put Food Pantry in the memo line) and mailed to Bethel Church, 952 Bethel Church Road, Spring City, PA 19475