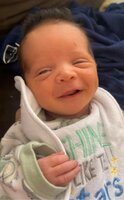 Elijah Marcello Carrera
Elijah Marcello Carrera,
Elijah Carrera, beloved brother and son, passed away early Sunday morning, July 24, 2022 in the Phoenixville Hospital. He was born June 29, 2022 in Phoenixville to Jose and Breyelle (Nofer) Carrera. Elijah, the fourth little boy of the beautiful Carrera family was the perfect little angel.
He enjoyed his brothers and all of the chaos that little boys bring. He was happy and peaceful and was an easy infant. Affectionately known as Eli to his mommy. Eli changed our lives and gave us such joy.
Elijah leaves behind his parents: Jose and Breyelle, brothers: Lucas, Gabrielle and Javier, Great Grandmother: GiGi Marilu Nofer and Grandmother: MiMi Megan Hinton; Abuelita: Rafella Velazquez, many Aunts and uncles and special friends and supportive neighbors like Mary and Eric Stewart.
Friends are invited to come to a Prayer Service beginning at 3 PM at the R. Strunk Funeral Home, 400 Main Street, Phoenixville, PA Visitation with friends and family is at 2:00 PM prior to the service.
Online condolences can be made at www.Rstrunkfuneralhome.com. All arrangements are being handled by R. Strunk Funeral Home, Inc Phoenixville, PA.