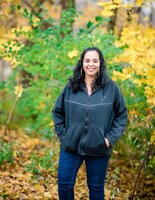 Elisa Anne Campos
Elisa Anne Campos, age 40, wife of Anthony (Tony) Gay and loving daughter of Manuel Campos (also known as "Big Daddy") and Beth Elsier and Step-Father Scott Hamilton ( also known as "Little Daddy").
Elisa took her last breath on Thursday October 6, 2022 at her home in Devon, PA. She was surrounded by her family, just like she had hoped for. Elisa was born In Fort Ord, CA. Elisa lived most of her life in Pennsylvania, she was a graduate of CAT Pickering Technical School in 2000, and was employed as a waitress for the Collegeville Diner. Elisa loved taking her children on vacations and spending time at the beach.
She will be deeply missed by her family, friends, and her dogs Scrappy and Hazel.
Elisa is the mother of Leila, Breonna, Aaliyah and step mother of Rasheed, Aisha, Mykala and grandson RJ. Elisa also leaves behind her sisters Suzanne, Teresa, and Cheryl. She also is survived by her sibilings Kristiana, Emmanuel, Marisa, and Daniela and several nieces and nephews.
Relatives and friends are invited to attend her Celebration of Life on Tuesday October 11, 2022 at 3pm at the R. Strunk Funeral Home 400 Main Street Phoenixville PA. Viewing will be held Tuesday at the funeral home from 1-3pm. In lieu of flowers a Go Fund Me has been set up to help with the continuing care of Elisa's Children.
The R. Strunk Funeral Home is handling the arrangements