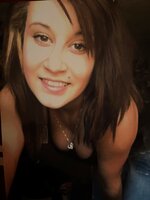 Cheyenne N. Adams
Cheyenne Nicole Adams, age 28 of Spring City, PA passed away Wednesday October 12, 2022 at Delaware County Memorial Hospital. She was born in Phoenixville Hospital the daughter of Shannon Potts and Ken Adams. Cheyenne attended Schuylkill Elementary and West Mont Christian Academy. Cheyenne is preceded in death by her maternal grandmother Elizabeth Potts, and paternal grandfather Richard Adams. In addition to her parents Cheyenne is survived by her brother Tristan Adams, two daughters Brooklyn Adams and Alannah Pitts, paternal grandmother Dorothy Adams, aunts,uncles, and cousins.
Cheyenne had such a huge personality and an infectious smile that lit up any room. She loved to be around family, and especially spending time with her brother Tristan and her beloved children.
Cheyenne will remain forever in our hearts and will be deeply missed by everyone whose life she touched.
Friends and family are invited to come visit from 6-7 PM on Tuesday, October 25, 2022 at the Shalkop, Grace & Strunk Funeral Home, 135 Bridge Street, Spring City, PA 19475. There will be a time of sharing beginning at 7 PM. Feel free to bring a brief memory to share.
In lieu of flowers please send a donation in Cheyenne's honor to the Philly Dream Center 3175 Chatham Street Philadelphia Pa. 19134.