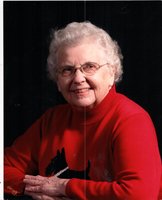 Sonia Kulp
Sonia (Haldeman) Kulp, beloved wife of the late Robert D. Kulp of Royersford PA died on Monday February 18, 2019 in the Manatawny Manor, East Coventry Township.
Sonia was born in Pottstown and resided most of her life in Royersford, she was the daughter to the late Donald S. Haldeman Sr. and Mae (Loomis) Haldeman.
Sonia was a lifelong and very active member of the Bethel United Methodist Church, where she was a longtime Sunday School Teacher and created the Toddler Class, served as past president of the United Methodist Women, served on the Administrative Council, sang in the choir, and volunteered with the Hope on the Hill, and cooking, sewing for the United Methodist Missions. Sonia always gave her time and herself anyway she could for those less fortunate.
She also was employed at various medical offices as a medical secretary.
She was and caring and giving mother who enjoyed spending her time with her family and loved baking, making homemade Jelly, as she was known for her "Strawberry Jam", she also found pleasure with gardening and canning and any task with taking care of her family.
Sonia was the loving mother of two daughters: Holly K. Quay (George) of Downingtown, and Wanda K. Cornell(Scott) of Buckingham Township. And 4 grandchildren: Robert James, Daniel Cornell, Meghan Cornell, Ryan Cornell, and 2 great grandchildren: Daniel Cornell and Elizabeth A. Cornell
She is pre-deceased by brother: Donald S. Haldeman Jr.
Relatives and friends are invited to attend her funeral service on Saturday at 11am at the Bethel United Methodist Church 952 Bethel Church Rd. Spring City PA 19475, The Reverend Jacqueline Hines will officiate. Burial will follow in the church cemetery. Viewing will be held in the church Saturday morning 10-11am. In lieu of flowers family request memorial gifts may be made in her memory to the Bethel United Methodist Missions Committee, 952 Bethel Church Road Spring City PA 19475
The funeral arrangements are being handled by Shalkop & Strunk Funeral Home, Spring City, on line condolences can be made at www.sgsfuneralhome.com