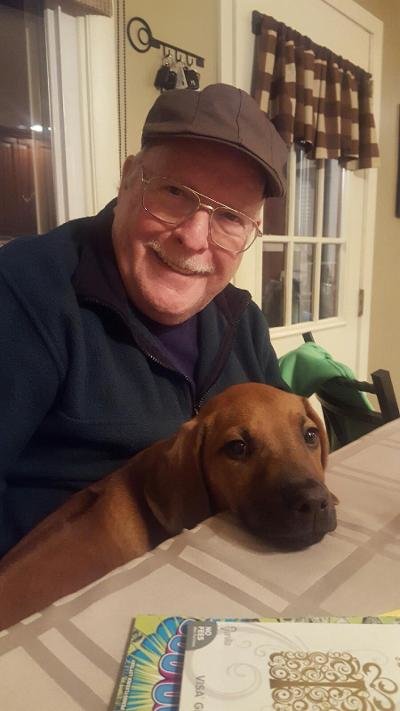 Obituary of James H. Albright
James H. Albright, 77, Oaks
James Albright, 77, passed away peacefully surrounded by his loving family on Monday October 19, 2020 in the Temple University Hospital.
He was born January 29, 1943 in Philadelphia to the late Herbert James and the late Grace (Gallagher) Albright. He is survived by his loving wife of 51 years, Carol (Coppola) Albright, along with his 2 daughters, Elena (Jeffrey) Kollar and Carolyn Albright, as well as his 5 grandchildren, Dylan Clark, Kennedy Kollar, Aiden Kollar, Natalia Thomas and Grant Kollar. He was predeceased by 3 older sisters, Joan Sturgis, Helene Schnupp, Grace Finnegan, and 3 nephews James Finnegan, Daniel Finnegan and David Finnegan. Jim was a beloved brother, husband, father, uncle, G-POP and overall family man.
He was a 1960 graduate of West Philadelphia Catholic High School and attended St. Joseph University graduating with a BA and served in the Army National Guard.
Jim went on to dedicate his life to Catholic education, as a long-time employee of Saint Gabriel's Hall, retiring in 2010 after over 30 years of service. He had such passion for "The Gabe's," that after he retired in 2010, he went back and worked another 10 years as a contractor for them, known as the IT guru. During his time at St. Gabe's Jim touched the lives of many troubled youth and made many long-lasting friends. His heart was broken when he learned that they would be closing in November of 2020.
When Jim was not with his family or working at The Gabe's, he enjoyed spending his spare time at the VFW and American Legion in Phoenixville, PA, where he was a member of both, and the Valley Forge Casino. He was also a member at the Amvets in Millsboro, De and the LaSalle Social Club in Delaware County, Pa. Throughout the years he made many friends, no matter where he went to have a cold drink, who all loved him like he was their family. He has been described by many as a second father, older grumpy brother, friend, but most of all an overwhelmingly great man.
He also had a love of sports, coaching, watching, and when he could play them. He was his grandkids biggest supporter no matter what sport they were playing, and even when his niece was singing the national anthem. He was an avid Philadelphia sports fan, especially his EAGLES and a big Notre Dame Football fan. He spent Sundays at home watching his Eagles with his beloved wife and took many trips to South Bend to watch his Fightin Irish play. In 2019 his last trip to South Bend to see his Irish, he was finally able to share the experience with his wife.
Above all Jim was the proudest of his family, and the life he had built the last 51 years with his wife, Carol. No matter where he went, he would talk about the accomplishments of his daughters, son-in-law and of course his grandchildren. He would do anything for them. Often his wife would wake in the morning and find money on the counter as he would split any winnings from the money he may win at VFW or Casino. He always said he got all his luck from St. Jude. His daughters could rely on him to be there to fix anything or at least try, if one of his grandchildren needed a ride you could count on him, and he loved watching his gran-puppies. He never hesitated to go in his pocket to give his grandkids money and he was always sneaking food to his gran-puppies despite being told not to give them people food. In June of 2019, Jim and is wife Carol were able to take their entire family to their favorite vacation spot ARUBA. He always said it was the best trip he had in ARUBA being able to share his experience with everyone, even going to the beach and in the water to get a picture with all his grandchildren (and he hated the beach and the water).
A Memorial Mass will be held at 11:00 AM Thursday October 29 in St. Joseph RC Church, 3640 Schuylkill Road, Spring City with Rev. Joe Devlin officiating.
Visitation prior to the service will be from 9:00 AM to 10:45 AM Thursday, October 29 prior to the service at St. Joseph RC Church.
In lieu of flowers, donations can be made to the West Catholic to help the Burrs on the Beach Event c/o George Light 339 Crescent Dr. Havertown, PA 19083. Online condolences can be made at www.rstrunkfuneralhome.com. All arrangements are being handled by R. Strunk Funeral Home, Phoenixville, PA.
To send flowers to the family or plant a tree in memory of James Albright, please visit Tribute Store
Visitation prior to the service
9:00 am - 10:45 am
Thursday, October 29, 2020
St. Joseph RC Church
3640 Schuylkill Road
Spring City, Pennsylvania, United States
Memorial Mass
11:00 am
Thursday, October 29, 2020
St. Joseph RC Church
3640 Schuylkill Road
Spring City, Pennsylvania, United States
Interment of Ashes
St. Anns Cemetery
305 W. Pothouse Road
Phoenixville, Pennsylvania, United States
610-933-3732